Well now, let me see, August has flown by and we are now mid way through September!
Giving the task of writing my blog to someone else seemed such a good idea at the end of August, but alas, as everyone kept telling me , the blog is really about YOU, and you must write it!
I'm glad this was the final conclusion as it reflects a deep passion on which the business is founded – 'authenticity'.
Being authentic and real is so important. I believe 'what you see is what you get'. Very important in my industry when people need to feel they can trust.
Sometimes I am aware that I work slowly, but always diligently with the best intentions and care for all my clients in mind.  I am here to 'serve' you, to try to express your thoughts and ideas into a creative piece that I trust will bring you and your loved ones much pleasure indeed.
Traditional skills and values can sometimes pass us by in this fast changing and moving world, but my promise to you is I will always have your best interests at heart.
I hope you will find time to pop by (any Saturday 11-5pm), never feel obliged to buy anything, although I hope you will find much to browse and also be able to talk to me about those things that are close to your heart and maybe one day I will have the privilege of making something special for you and for those you love.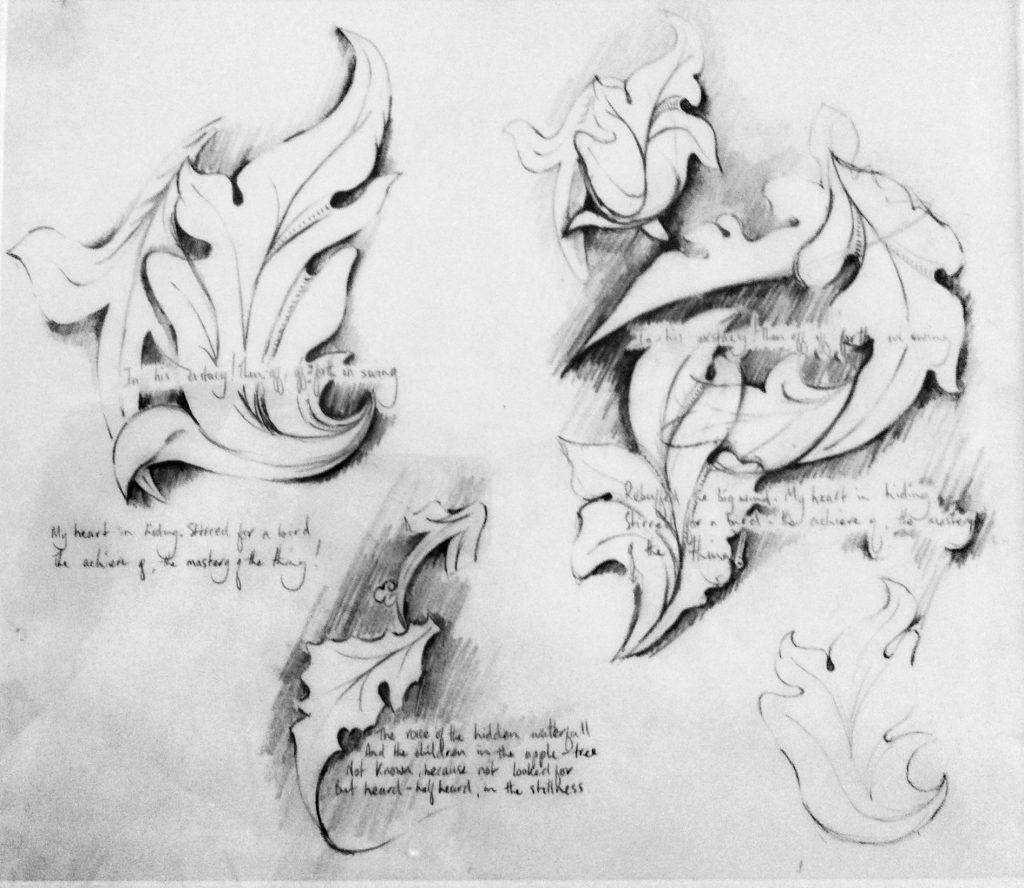 The words in my drawing are taken from one of my favourite poems The Windhover by Gerrard Manley Hopkins. The paragraph at the bottom of the page are words taken from the poem 'Little Gidding', (Four Quartets) by T.S. Eliot. I sketched the leaves of the stained glass windows as I sat inside the beautiful chapel at Little Gidding in Northamptonshire.