The natural world holds many hidden treasures. Delicate in design, pearls surely have to be one of the most precious finds.
Imagine opening up your mussel or oyster shell and finding an iridescent, magical pearl.  The surface of a beautiful pearl will throw out many colours , you will be able to see blues, pinks and greens of all varying shades subtly dancing upon the surface as the light catches the many layers of nacre built up by the mussel or oyster inside the shell.
Before I worked with pearls (when I was a young girl ) I always felt a little disappointed that pearl was my birth stone.  I just saw them as white or cream blobs that people wore around their necks.  How lucky I have been since, to work with some most beautiful pearls and now I completely love them!
They are traditionally strung on silk and knotted. This protects the pearls from rubbing against one another and also prevents the pearls from bouncing around the floor should you be unlucky enough to have the silk break.
The price of pearls vary greatly depending on the quality and size and you can get natural and cultured.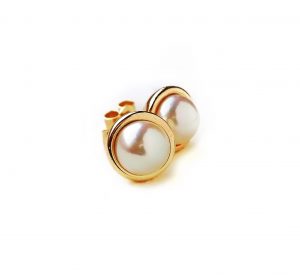 Cultured pearls are real pearls that are farmed. An irritant (often a small piece of mother of pearl) is carefully placed inside the shell and the creature builds up layers upon layer of nacre creating what we know as pearl. With natural pearls, this phenomenon occurs naturally where something has entered the shell and the creature builds the layers of nacre in order to protect itself against any intrusion.   The natural colours range from whites through to varying shades of creams and pinks and some fresh water pearls can also be dyed.
There are also many imitation pearls products on the market, but natural and cultured pearls (if we are lucky enough to own some) are treasures indeed.
Pearls sit beautifully with other gemstones as seen in some of the pictures below.
Pearls are the Birthstone for June.
I haven't got my ears pierced and those that know me will know I hardly wear any jewellery. I'm so busy making for everyone else, I really don't have time to make myself anything!
One reason however, why I would get my ears pierced would be to wear beautiful pearls.
One day, one of my 'brides to be' asked me to source some 9/10mm cultured fresh water pearls to be set as a drop earring on white gold to be worn on her wedding day.  I brought her a choice of pearls and then made up her favourite pair to drop from elegant white gold hooks. When she tried them on it was a defining moment for me! She looked so beautiful and I thought I must have some pearls!
There are many shades of natural colours so if you have any preferences then you must ask!.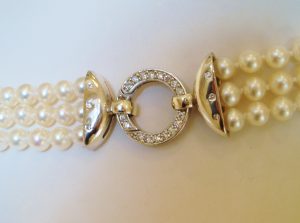 Prices start at around £100 for a necklace of cultured freshwater pearls, but you could easily spend much more dependent on size and quality.
I wanted to write about the beauty of pearls, but also about how they make you feel: they are more than an accessory; they are an addition that immediately creates a feeling of beauty and special occasion.
At Carol Clift Design you can chose from a range of quality pearls, this is an example of AAA grade top of the range cultured freshwater pearls, 6/6.5mm.  Your choice of pearls can then by strung on silk, to the required length.